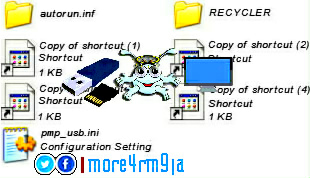 USB drives, especially those we use on public computers such as schools, cyber café, hotels e.t.c are very prone to getting infected by harmful viruses present on those computers.
One of the most common of these viruses is the
Shortcut Virus.
It creates many many unwanted icons on your storage device, and in most cases hide all your files preventing you from accessing them.
Most antivirus proof ineffective against this stubborn threat. When you notice that your device has been infected, do not panic and never make the mistake of formatting the device as you will lose all your files. In this article, I'll treat two methods you can employ to easily remove
shortcut virus
from your device
Method #1
 Using CMD (Command Prompt)
STEP 1
 Open command prompt by pressing
Windows key R
, then type-in
'CMD'
in the box and hit enter.
STEP 2
 Now input the following in the command prompt window,
"attrib [Your USB drive]:*.*/d/s-h-r-s"
without the quotes &bracket.
NOTE:
 [Your USB drive] must be changed to the letter of your drive. Suppose your flash drive is on drive
"E"
, then the code above must be like the following
attrib E:*.*/d/s-h-r-s
and then click enter.
STEP 3
 Now wait for some time while CMD finish the command. Once the process is complete, the shortcuts will be removed from your drive and computer.
Method #2
 Usin Third-party Software
You need to download and install the software called
USBFix
on your computer. USBFix will help clean junk files and shortcut virus from your storage drives. It also repairs files that are already damaged by some virus or malware. And incase USBFix had deleted files that are already damaged, it automatically makds a backup in
C:/USBFix/Quarantine
of your computer which gives you the option to restore back the deleted files.
How To Use USBFix
*. Download and install USBFix
HERE.
After successful installation, restart your computer.
*. Connect the infected USB device and then run the installed programme.
*. Click on 'CLEAN' button, wait till the process of cleaning is completed and then restart your computer again.
*. It is important that you restart your computer after the cleaning process because USBFix makes changes in the Windows directory which needs a restart. Insert your USB stick again to confirm if the shortcuts have been removed.
UNDER MAINTENANCE