Quick links

Date: 2021-06-20  |  at19:13
About more4rm9ja
more4rm9ja is a blog dedicated to serving you with rich, unique, educative & informative contents from Nigeria and around the world, while also making sure you don't get a boring day, with our up to date entertainment gist and some little dose of gossips.

The site is built in a way to make surfing less hectic for you with a sleek, simple design, and user-friendly interface to ease navigation both on mobile and PC. We strive to be the best part of your day, everyday. And a visit will definitly keep you coming back, everyday!.
---
About Author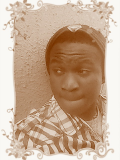 Samuel Solomon
He's a writer, blogger, and web-enthusiast. A relentless and fast learner who loves learning new stuffs, especially in the cyber-world and putting them into good use. You can hook up with him using the following channels...
Follow On

Follow On

Email:
© 2016 More4rm9ja™
Privacy Policy
|
Contact Us
|
About Us