Playing HD games on Android devices with RAM as low as 212mb and 500mb can be pretty annoying, it lags and sometimes just hang. Now for you game lovers that like playing HD games but are still stuck with low RAM smartphones, here's a tip on how you can enjoy games smoothly without worrying about RAM anymore.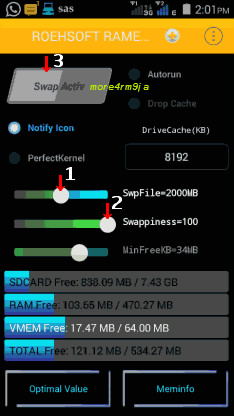 Step 1.
Download the latest version of "roesoft RAM expander" from Google playstore or any other third party site.
Step 2.
Install the app on your device, then open it and set "swapfile" to either 1gb, 2gb, 3gb or 4gb as shown in the picture above.
Step 3.
Now set "swappiness" to '100' as shown above, then click on "Swap Active" and choose from your SD Card and then proceed to playing your games.
Please note that more4rm9ja will take no responsibility for any damages to your device or lost of data that may arise from the use of this tutorial. This is for educational purpose only, please use your own discretion.
UNDER MAINTENANCE